About St George's Nursery & Pre School

St George's Nursery & Pre School is a privately run childcare setting located on the grounds of Arreton St George's CE Primary School.
Our newly refurbished nursery forms an integral part of school life on the site and is sited on the school grounds overlooking the playing fields with easy pedestrian access from the community car park adjacent to the White Lion public house and available parking for dropping off or collection.
All children welcome
We welcome all children to our setting, and with the help of their parents/carers, we will liaise with whichever primary school is chosen and provide a dedicated, trained member of staff to assist with the transition.
Registered & Ofsted inspected
We are regulated by Ofsted and the IW Early Years Unit, with whose standards we must comply, we are also inspected on a regular basis. Copies of our latest inspection reports can be found by following the 'Contact' link at the top of this page.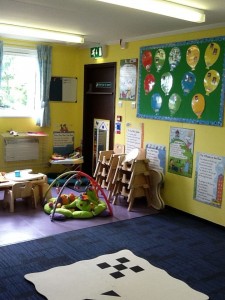 There is an ongoing commitment to staff training within the group and we aim to make provision for staff to upgrade their training. We close our premises for one day each summer in order to bring our staff together to attend in-house training.
Positive learning environment
The aim of the Nursery is to promote a positive learning environment in a warm and friendly atmosphere.
A wide range of opportunities are made available to the children in the recognised areas of development as set out in the Foundation Stage 0 – 5 years.
Discuss your child's day
We try to operate an 'open door' policy; we are always available to discuss your child's day with you at the beginning or end of each session. If you have a concern regarding your child or if there is a change of situation that may affect your child please let us know. If you wish to see someone in private please make an appointment with us.
Our daily activities are very much 'experience based'. We include time for outside play in each session in our large gardens and outside activity areas.
Join us
Please feel free to download our Policy Documents and Welcome Pack from this site and if you would like your child to attend St Georges Nursery & Pre School please either print off the Registration Form and Consent Forms from this site or call in to discuss your requirements with us.
Talk to us
We are always happy to make appointments to look around the nursery and meet the staff and we can arrange 'stay and play' sessions, free of charge, to allow your child time to explore the nursery and feel at home before they start.
Please feel free to ring us on 01983 826186 between 8.00am and 6.00pm Monday to Friday.